---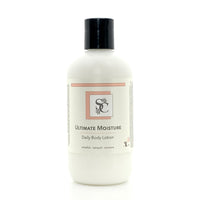 Decent…would choose different scent
The Ultimate Moisture Daily Body Lotion is good. It's not super thick and provides decent moisturization throughout the day. I personally chose coconut and vanilla for the scent and do not care for the coconut. The vanilla smells good but you can tell it's fragrance and not essential oils.
Ultimate Moisture Daily Body Lotion
The best lotion I have ever used!
This brand is amazing! The scents are very accurate and the lotion is perfectly hydrating. Thank you for making quality products :) Customer service is wonderful as well :)
love this and have been using for 4 years now!
I was directed to Sage & Cedar by a friend and have never looked back…the ultimate moisturizer is so great! I love it everyday. II had a fragrance. it is a perfect amount of scent and I get comments all the time as to what perfume I am wearing!
Best lotion on the market.
Been ordering this product for it least 20 years. Other then adding new scents over the years product has not changed.