---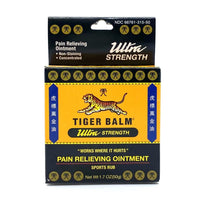 Tiger Balm Ultra Sport 50
Ultra STRENGTH TIGER BALM Pain Relieving Ointment works where it hurts.
TIGER BALM has been used over one-third of the worlds population for nearly 100
years. More than 20 million jars are sold each year in over 70 countries
worldwide , because TIGER BALM works where it hurts.
Ultra-Strength TIGER BALM contains more of what makes TIGER BALM work where it
hurts. With more pain-relieving menthol than Extra Strength TIGER BALM , NEW
non-staining Ultra Strength TIGER BALM provides deep penetrating ultra relief to
work where it hurts.
SATISFACTION GUARANTEE , MONEY-BACK GUARANTEE
WARNING: For external use only. Avoid contact with eyes. If condition worsens or
persists for more than seven days , discontinue use and consult a physician. May
cause an allergic reaction in some individuals with sensitive skin , test on
small area before use. If severe irritation occurs , discontinue use immediately
and consult a physician. Do not apply to wounds or damaged skin. Do not bandage
tightly. As with any drug , if you are pregnant or nursing a baby , seek the
advice of a health professional before using this product.
drugs out of the reach of children. In case of accidental ingestion , contact a
Poison Control Center of physician immediately.
Active Ingredients: Camphor & Menthol.
Inactive Ingredients: Cajuput oil , cassia oil , clove oil , dementholized mint
DIRECTIONS: Apply Ultra-Strength TIGER BALM to the affected area. Feel the
warmth of its ingredients helping to relieve muscle soreness and stiffness. Rub
well on affected area. Repeat 3-4 times daily.
For children under 2 , consult a physician.

oil
& paraffin petrolatum.