---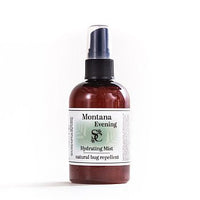 We love this product...
Wondering if we should keep this the refrigerator? We forgot we had some left from last year and now have three bottles… thanks
No need to refrigerate! Your MT evening is good for a couple seasons!
Works Well like the previous one
If I hadn't used the previous product I would love this one. The formula has changed since I bought the last one and it smells quite good for a bug repellent, but the one I had before smelled marvelous and I absolutely loved it. I can't say if this one is more effective as I had no complaints with the last one, even with Texas' practically year round mosquitoes. Works for fleas too.
Great Stuff - am reordering now
Thought I'd leave a review now that I've tracked down this product. I bought a bottle on a Montana visit two or three years ago and while it isn't the only bug repellent I've used in the meantime it's my favorite for the wonderful smell and it has always seemed to work well against mosquitoes here in Texas. I've recently been fighting a flea infestation in my house and wonder of wonders, this spray keeps them from biting me. It smells like a lovely room spray and works so well I had to do a search on the internet to find more.
Montana Evening Mist
This product is wonderful. Keeps even the Oklahoma bugs away. Have referred our friends to the product.