---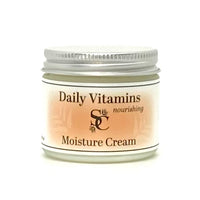 Best Face Moisturizer Ever!
I've been using the Daily Vitamins Cream for literally decades. Over the years I had to change my methods of purchasing it as previous vendors have gone out of business, and have not found a comparable replacement. I found Sage & Cedar through a referral from the manufacturer and will continue to purchase from Sage & Cedar as long as they'll let me. I don't even live in the same state. The Daily Vitamins Cream is lightweight, not greasy, absorbs quickly, and is a wonderful daily moisturizer both on my no-makeup and makeup days. My skin is very sensitive and this moisturizer is the best!
luv it
I started using vitamin creme daily several months ago and my skin feels very smooth and soft. Not greasy, absorbs niccely.