---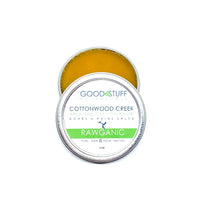 Cottonwood Creek Aches & Pains
Cottonwood Creek acts as a natural pain reliever and topical anti-inflammatory for sore or over-worked muscles and joints. Whether you've been chopping wood or diving into your vinyasa yoga flow, this salve will save ya! With high levels of sesquiterpene lactones, Cottonwood Creek relieves pain and swelling by dispersing the fluids that build up in injured tissue, while mopping up the inflammatory debris and lactic acid caused by injury and strain.
Uses: soothes muscle aches, strains, hyper extensions, pain and swelling; sprains; bruises; arthritic joints and other joint pain; inflammation and swelling related to broken bones. 
How to use: Gently and generously rub salve onto skin to relieve pain and inflammation in muscles and joints. Great for post-workout recovery. Avoid contact with eyes, mucus membranes, and open wounds. Check with your health guru before using if you're pregnant or breastfeeding.

Ingredients: Wildcrafted Arnica Flower infused in Organic Castor Oil, Wildcrafted Cottonwood Bud infused in Organic Castor Oil, Wildcrafted Devil's Club Root infused in Organic Grapeseed Oil, Organic Mustard Oil, Organic Beeswax, Birch Tar; Essential Oils of Ginger, Cajeput, Wintergreen, Black Pepper, Eucalyptus, Turmeric, Clove, Juniper
-No Funny Stuff-
Does NOT Contain: GMOs, Parabens, Sulfates, Fragrance, Alcohol, Chemicals or Dyes!
Net wt 2oz/57g