---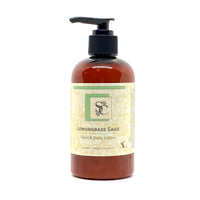 Had to have it!
While on vacation in Montana I found the air to be so much drier than in my home on the East Coast. I stopped in the shop looking for a travel size (airport legit) of hand lotion. I didn't see anything but the cashier told me she could put whatever I wanted in a 4 oz. size for travel. BINGO! I hadn't even tried the other scents because as soon as I smelled this I had to have it! I will be ordering more online for myself in the future! What an adorable shop too in Whitefish Montana!
Lemongrass Sage - The Very Best Lotion Ever
I love this lotion - I bought it for the first time 12 years ago on a visit to Whitefish Montana and I've ordered online it every year for myself and for gifts to family and friends. Not only does it smell "delicious" I also found that mosquitoes and other bugs HATE it... It actually keeps bugs away, so I use it for more than just the wonderful scent and the really great job it does in moisturizing my skin.
Lemongrass sage lotion
I absolutely love it! Smells so good!